Opal Knight Guarding Mother
oil and conte on canvas,
60" x 40"

2022
oil and conte on canvas,
30" x 48"
2022
oil on canvas,
36" x 48"

2022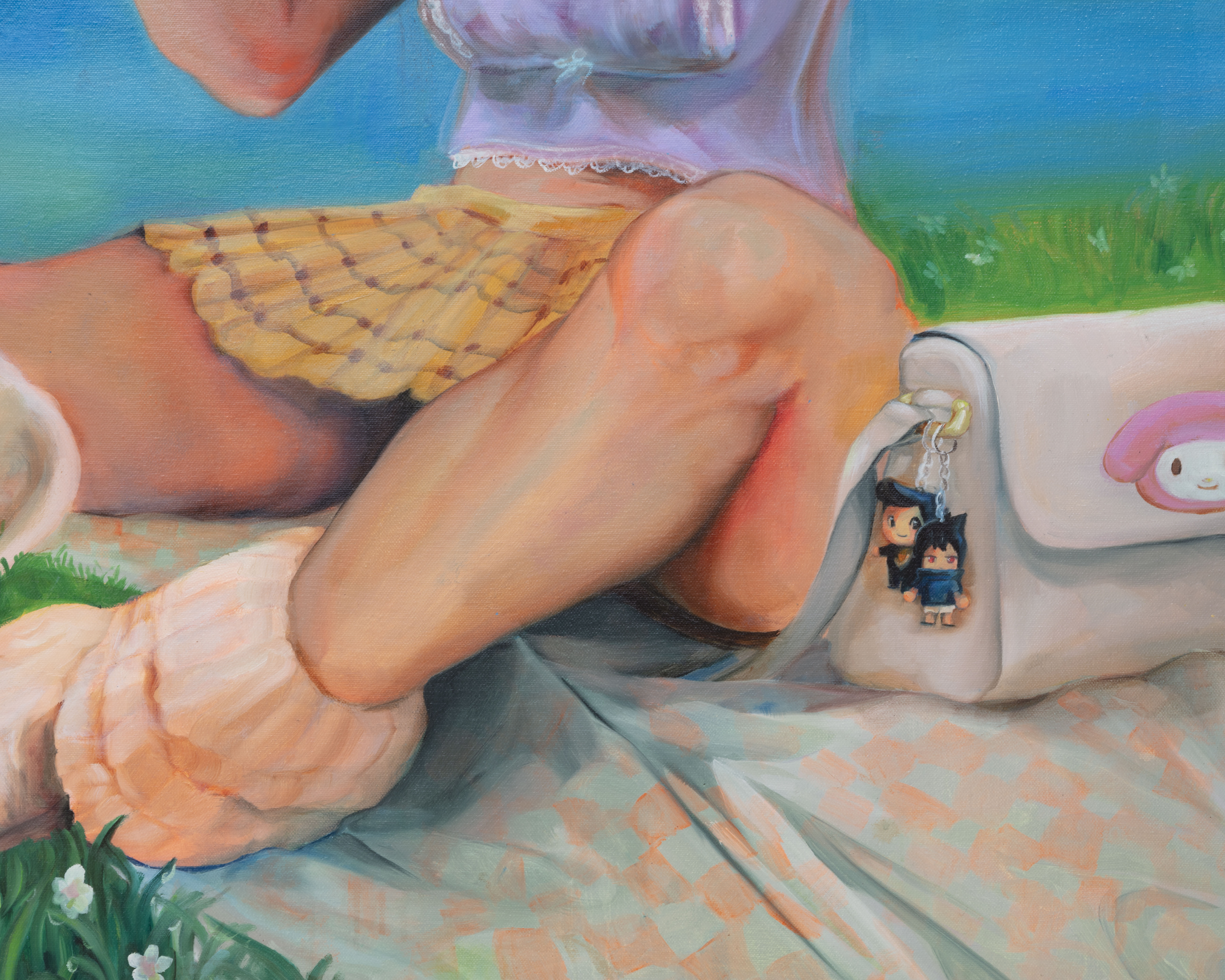 oil on canvas,
35.5" x 30.5"
2022

In this piece, I was focused on the idea of "Columbia," the female personification of America. Columbia is traditionally depicted as a beautiful white woman with a robe, possibly draped by an American flag, sometimes with a sword (a symbol for war). She is considered a racist and white supremacist symbol of manifest destiny, famously depicted in the painting "American Progress," by John Gast.⁠
⁠
Here, I imagine this showhorse is named Columbia. A creature I resonate with-- a being caught from the wild, domesticated, and dolled up in order to be paraded around in glory and symbolize a country it may not identify with. The two Asian girls-- their black roots showing through their damaged bleached blond hair, also serve as servants or reflections of "Columbia" as well. In a way, they may roleplay as "Columbia", with their hair and denim and cowboy hats, but they would never outdress their black hair or yellow skin. One of the girls sadly outfits the horse, with a whitish metal mask, a decorative piece of costume that barely serves as armor; its horn is a version of Columbia's sword.
Shadow Visions in a Yellow-Skinned Room
oil on canvas.
30" x 40"

2022

This piece was made in October. Whenever October comes around I am reminded of death; my father passed on October 6th, 2006. My family visits his grave every year, offers fruits and incense, and burns funerary money.

Fall has always been treated as a turning point, as leaves change color and it grows colder. I thought of this time as a moment of retrospection for the old and dead, but also a moment to look forward to the future. I considered this time a "liminal" space, and inspired by internet legends of "the Backrooms," yellow-skinned rooms filled with only journeys and no destinations, I felt compelled to make a quieter and meditative piece filled with stillness, specters, and passing thoughts.